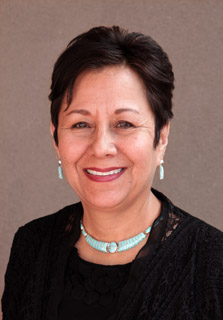 Maria Lorraine Vigil lives on her ancestral land in Chimayo. Maria's ancestors have lived in this community for hundreds of years. Through research Maria has discovered that she has a rich mixture of heritage that includes Spanish, Native American, Russian and, more than likely, Mexican. When working at the museum, tourists would continuously ask Maria, "what do you consider yourself?" Maria would reply, "I'm American but would consider myself a 'mutt', a mixture of many things." She continues to say, "this is not a bad thing, it is wonderful, it's like creating a fine stew, the more ingredients you add the better flavor it has."
Growing up, Maria was raised with traditions that were carried on through the years. These traditions included the rich history of the area, the importance of family, religion, art, music, and food. Maria cooks many of the same foods that have been cooked for hundreds of years by her female ancestors. Many of the dishes Maria cooks use some of the famous Chimayo Chile which is still grown by herself, her parents and other family members.
Maria was the first person to graduate with an Associates of Applied Science in Spanish Colonial Furniture from Northern New Mexico Community College. Maria also completed her Bachelor of Arts in Management through the University of Phoenix. She did this while working full time and going to school at night and raising her two older children as a single parent.
The love for woodworking came from the admiration Maria had while watching her grandfather, Apolonio Martinez, carve his Santos. Apolonio was a Master at Spanish Market in Santa Fe. After taking classes at NNMCC, Maria created a few furniture pieces but concentrated more on one of a kind crosses and other woodworking items. Maria's crosses are created with prayer and love. She juried with Hispanic Contemporary Market in Santa Fe and was immediately accepted. Maria has shown her work at different venues throughout New Mexico, Tucson and Mexico. Maria has received several awards for her crosses and furniture.
Maria served as the Executive Director of the historic Chimayo Museum for 10 years which is located on the Plaza del Cerro. In this capacity, Maria was the Director, Curator, Registrar, Museum Educator and Docent, Public Relations Officer, Development Officer, Membership Officer, Business Officer and tour guide.
Maria feels she is blessed with the riches of family, traditions, faith, culture, history and in living in such a beautiful and sacred community. Maria would like to pass on these blessings to her children, grandchildren and to others.